Do You Have A Roofing Project We Can Help With?
Over the past 30 years, our team of roofing specialists has noticed a recurring theme among our 40,000 happy customers!
DeLuca's Replacement Roofing Division specializes in (but not limited to):
Custom Flashing Fabrication

Duradek Vinyl Flooring for Decks and Balconies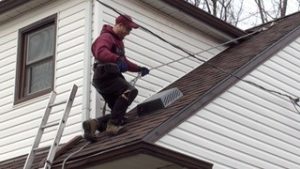 You want a lasting, beautiful roof over your head – and you don't want to worry about it. But you're already aware that not all roofs are created equal, and even if you're still deciding on the best choice of style or material for your home, you know exactly what you're looking for:
expert craftsmanship
performed by certified installers
with transparent billing & financing
award-winning professional service
Now you're talking DeLuca's Replacement Roofing Division – an exclusive team of professionals assembled specifically to replace your residential roof.
What can you expect from the Replacement Roofing Division?
You can expect premium-quality roof replacement, and professional service, delivered by a dedicated award-winning team of specialists who take pride in your satisfaction.
Your project begins with a click (or a phone call, if you prefer). Let us know the best way to contact you, and a qualified estimator will call to schedule an in-home consultation at your convenience – absolutely free.
A knowledgeable and competent roofing specialist will assess your project, talk it through with you and offer helpful tips, advice and provide an accurate estimate.
Once you've decided on a new look for your home, you'll get a call from one of our Installation Coordinators to schedule your roof replacement.
And then the action begins. You and your family can actually relax, because our knowledgeable installation crew will create your new roof from start to finish.
Upon completion, your Installation Coordinator will perform a thorough inspection of the project, and after you're satisfied with the finished product, our fees are paid. We offer a variety of payment and financing options for your convenience, including cheque, Visa, MasterCard or Financing (OAC).
If you need a roof replacement, we can help.
Our experienced crews offer a wide variety of top-quality residential roofing services, year 'round – many of which are unique to our Company. Whatever the season, whatever the reason, you can count on DeLuca Roofing Inc. to keep your most valued possession protected – your family's home.
To learn more about DeLuca's Replacement Roofing Division and discuss your roofing options, please contact our office at 905-631-0961 or click here to schedule a free in-home consultation.
Learn More About This Service!
Connect with us to learn more about how our roofing services can keep your home protected from the elements all year long.